Raúl León, founder of Marketing Boosters and recent KU graduate
We present the testimonial of our recent graduate Raúl León. He is from El Salvador and studied Management Information Systems.
While being a student, Raul demonstrated skills in entrepreneurship that lead him to create several online businesses, highlighting among them his company of social media interaction supplier: "Marketing Booster".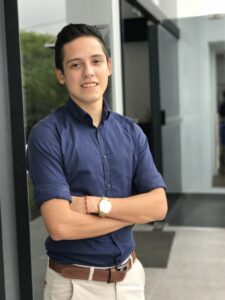 My entrepreneurial adventure begins as an undergraduate student at Keiser University Latin American Campus. Rather than being a person who agrees with the standardized approach to life, I have always supported the idea that the best time to start taking action to follow a dream is today. Becoming an entrepreneur is not an easy task, instead it requires an adoption of a new lifestyle and mindset. Moreover, being an entrepreneur drives you to jump outside your comfort zone and not to fear risks. The most difficult part of being an entrepreneur is to know where and how to start.
A good starting point is clarifying your ideas, setting short term goals, and taking actions that in the long run will lead you to your dream. I have heard that a lot of people do not start a business because of money, but today, thanks to technology, it is more affordable to start it. I encourage you to always be surrounded by people who believe in you and support you even when things go rough. Always remember that a business without risk is not a business, so are you willing to take the challenge?
Raúl León, Class of 2018
Founder of Marketing Boosters
El Salvador