Carlos Blanco – Presidente de Fellowship of the Cross
Nuestro househod Fellowship of the Cross fue fundada en septiembre de 2004 por estudiantes que querían hacer una diferencia en sus vidas. Este household está inspirada en el trabajo de los frailes franciscanos que vivieron en San Marcos para ayudar a los ancianos y enfermos.

Les presentamos el testimonio de Carlos Blanco, estudiante de Administración de Empresas y presidente de este household.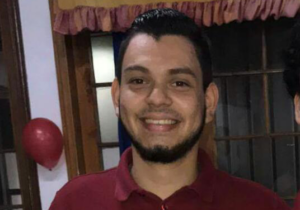 Mi nombre Carlos Blanco miembro y actual presidente del Household Fellowship of the Cross. Cuando entré a la Universidad Keiser nunca tuve la iniciativa de involucrarme en un Household. Fue hasta Fall 2016 que comencé a ser un miembro comprometido del Household y para mi sorpresa, fue algo de lo cual nunca me arrepentiré. Al pasar el primer mes ya podía apreciar una mejora en mi vida ya que conocer a mis hermanos de Household me ayudo a hacer cambios en mi día a día. Mis hermanos de Fellowship of the Cross me mostraron una Amistad verdadera; así también nuestra devoción a ser discípulos de Jesús nos hacía crecer juntos a todos.
En fellowship of the cross crezco como persona, establezco una mejor relación con Jesús. Este Household me enseña a ver la vida desde una perspectiva única y especial llena de amor y servicio como nos lo enseña nuestro santo patrón San Ignacio de Loyola "En todo amar y servir". Mi Household me cambio, empecé a despertar mi lado humano y a vencer mis egoísmos. Uno de mis mas grandes aciertos es haber entrado a Fellowship of the Cross.