Would you like to be an exchange student in the USA?
"Spending one semester as an exchange student has been one of the most wonderful experiences of my college life. Having this opportunity made me more open minded, and knowledgeable. It is awesome because your network expands a lot, the quantity of people you get to know from different parts of the world is just amazing. Having the chance of taking classes with different professors helps you to see education from a different perspective since their way of teaching is totally different. Also, there is more than just the formal part; in there, you get the opportunity of visiting different places, doing fun things, and if you are lucky enough just as me, you can make friends that I am sure will be for life. In general, the experience is unique and wonderful, there are no regrets, I will always remember it as something that helped me to growth and become more independent."
– Kamila Aragón, Exchange Program Spring 2019.
Some people may wonder what a student exchange program is. It is an opportunity in which students from a specific institution (high school, college, or university) travel to another institution in a foreign country to study for a semester or a whole academic year. Exchange students will comprehend more about world culture and problems through experience by leaving their home countries and experiencing a different lifestyle. Students who have participated in exchange programs describe them as exciting and rewarding because they were not in a different country just for studying if not that they got to know the locals, experienced their culture, and lived as they do. Moreover, studying abroad may be perceived as economically improbable by Latin American students; however, those who go to exchange programs have the chance to study in a different for a few months and at a fraction of the real cost. Clearly, a student exchange program is an eye-opening and once-in-a-lifetime experience.
The empathetic outcome of the cultural and educational exchange that the person gets from it is a deeper understanding of oneself and society. Furthermore, it is an excellent way to strengthen international relationships and to get life-long friendships around the world. Having funny outings with friends from different countries gives the student the chance to meet people from different backgrounds, which encourages cultural awareness. Besides, students who participate in exchanges programs experience self-development, leading to enhance their self-confidence and self-esteem. Indeed, this is the most noticeable change in returned exchange students because of the new perspective they gained by leaving their comfort zone aside. Exchange programs will also improve students' decision-making, leadership, and independent-thinking skills. By studying overseas, students will engage themselves in a different study environment that will help them to expand their language skills. Indeed, it is astonishing what exchange students can get from this experience and what they can teach others in the meantime. Keiser University Latin American Campus has a student exchange program of one semester with the Flagship Campus of Keiser University in West Palm Beach, Florida.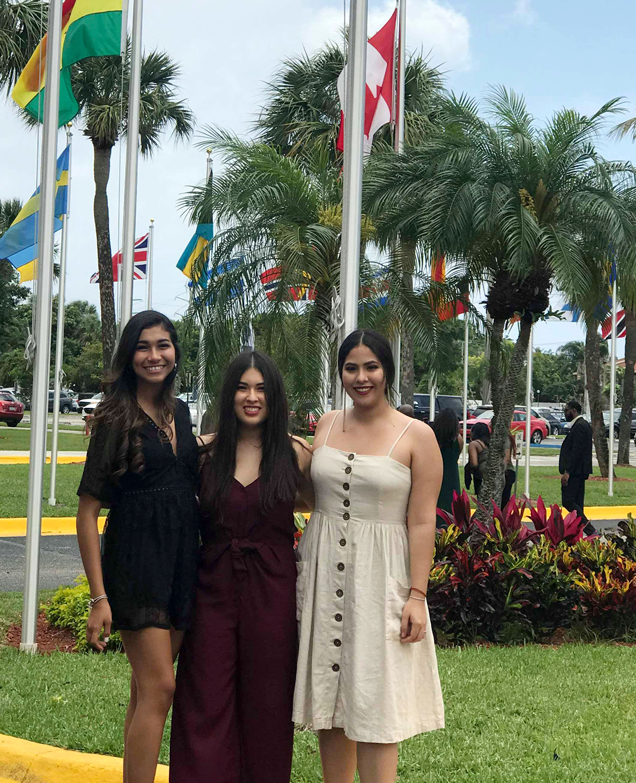 Our University does not want to deprive students of this type of experience; therefore, a new group of selected students from our campus travels to the United States every semester to study abroad. Candidates to this program must have a 3.0 grade point average (GPA) or higher, as well as being full-time students. Can all students apply? This exchange program is available just for second semester junior or senior students. It is worth mentioning that the selection committee of this program will consider in the applications the curricular and extracurricular contributions to the life of our campus. Besides, students who want to apply to this program in Flagship should support the mission of KULAC and will be good ambassadors of our campus. The administration and faculty of our institution expect students who will study abroad to behave maturely and responsibly. Therefore, the selection committee assures the selected students will benefit entirely from this experience.
Another student that had the privilege to be accepted in our student exchange program in the Flagship Campus was David Reyes from La Unión, El Salvador. He enjoyed the four-months experience he had during his time in Florida. When we asked him to describe his experience, this is what he stated.
"Ever since my very first semester at Keiser University Latin American Campus, I knew about this exchange program and the valuable experience it could bring. I knew that going abroad to a further place to study would be the cherry on the top of my college life cake. As setting everything up before my date of departure, I had no other emotion but entrancement and thankfulness with God for such a great opportunity. I did set high expectations as to how the exchange could benefit my college journey, and they were fulfilled whatsoever.
The period from late August to mid-December was full of new experiences. I met many people from myriads of cities, I made long-lasting friends, and I did enjoy the time abroad. I cannot shorten into two paragraphs, memories that are worth four months. Indeed, being an exchange student made me think of how valuable it is to study at Keiser University Latin American Campus. The atmosphere at LAC is unique. Professors, staffs, and students encompass a great family that must not be taken for granted."
– David Reyes, Exchange Program Fall 2018